Friday Fill-Ins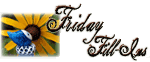 That's a place where I want to be.

Hello; I'm over here!

The possibilities include: anything you want to be.

Chicken and Dumplings is one of my favorite cool day recipes.

How will you know where the sidewalk ends if you don't follow it.

Summer nights and a stormy sky.

And as for the weekend, tonight I'm looking forward to watching TV, tomorrow my plans include going to the Melonfest and Sunday, I want to REST!